Travelling to Paris all alone
In this article, I narrate my experience as I reach Paris, the first city of my solo European trip.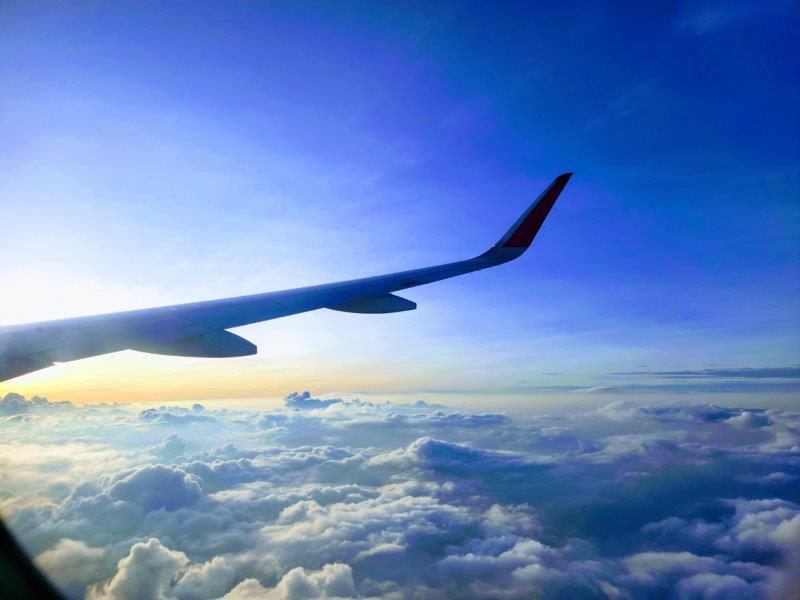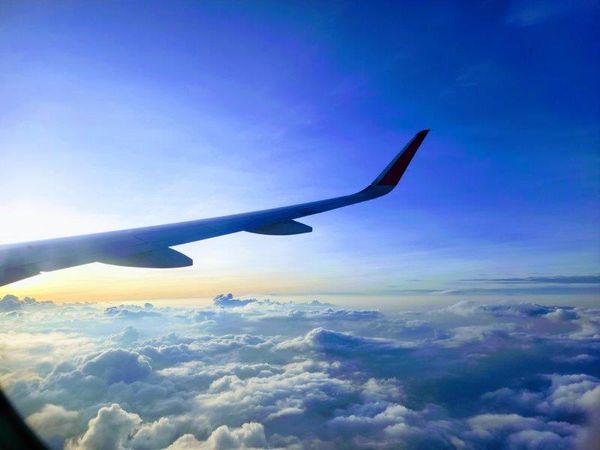 Introduction
Since the COVID-19 lockdown, I have wanted to go on a long trip. If my friends agree to join me, I want to visit Australia or New Zealand. But then none of them could join. Few wanted to tag along if I went to South Asian countries like Thailand or Vietnam, but then at the last minute, they slipped from the idea silently.
I was left to decide if I should travel solo or not. As I was thinking about it, it was clear that I didn't want to visit a new place alone. South Asian countries have a language barrier, and Australia/New Zealand have a visa that is not open for tourists yet.
So, I decided to visit European countries as I saw those places already in 2018, and I know European countries were approving travel visas. But there are a few problems; these were real-life incidents.
And what are those?
My friend got mugged in a western city in Europe.
I experienced firsthand a person stealing my luggage in 2018 in Barcelona. Thankfully, the police nearby caught the person and thus got our bag back.
A friend of mine lost his passport and wallet. How he got out of this challenging situation, I never knew.
My friend who stayed in Europe advised me to be careful as mugging is expected in Paris.
Listening to all these stories, I was very nervous about going on a European solo trip. But I did. What made me go? Maybe the frustration endured during the lockdown? I don't know. I visited four different countries. It has been a fantastic experience for me, and with this article (and a few more to come), I want to give a glimpse of what it was like to go on a solo trip. All the articles related to my Eurotrip will be tagged Eurotrip2022.
All the articles related to my Eurotrip will be tagged 'Eurotrip2022'.
In this first article, I narrate my experience as I reach Paris, the first city of my solo trip. I will also talk about the thoughts I had in my mind when I was making certain decisions during the journey. Besides, I'm a photography fan, so I'll include some photographs and videos. I hope you'll have a great time reading about my solo trip experience 🙂
How to read these articles
This series is in progress. There will be multiple articles in the series, most of which are independent. Some context you might miss, but you should be able to jump on to any article that interests you! :)
Background
I want to keep boring stuff away from this article. So, here's some background.
By the time I boarded the flight to Paris, I had the following.
Return flight ticket back to India.
Schengen Visa and
Hostel bookings at the following locations, in the same order I'll be visiting. Paris, Amsterdam and Berlin.
Mobile with international roaming enabled.
Euro currency notes and a forex card loaded with Euro.
Flight
I had booked an Air Asia flight on Booking.com, which cost around 32T (thousands) INR. There was a single stop in Delhi, and I reserved a window seat for the flight from Bangalore to Delhi and an Aisle seat in the centre of the flight from Delhi to Paris.
Previously, I had a terrible experience travelling on a long-distance flight in the window seat, so I chose the Aisle seat for my Delhi - Paris flight. The aisle is a comfortable seat, and I slept, ate food and then walked comfortably on the flight, all thanks to the aisle seat. Besides, my right seat was empty, so I dumped my jacket whenever I had food.
My flight journey was going very smoothly until the captain announced the flight's landing in Paris. I know I was all alone, but I didn't realise the gravity of the situation until that point. My mind started acting weird and childish when my flight landed, and I stepped into the airport. My monkey brain's main problem was, how would I go to the hostel? The problem was tiny, but given that I was alone and far away in a strange land, my brain didn't know what to do but create pressure. I calmed it down by saying we'll take an Uber in the worst case. But my mind doesn't listen and then bothers me by saying things like, "I'm making a big mistake by coming alone. What if something happens?" I started talking to the person before me to divert my mind. The person was an Indian, too, so my brain felt slightly comfortable. The person in the line was here to do a master's and had a student visa. He completed his immigration, and then it was my turn.
Immigration
The immigration officer looked at me as if I were going to rob her house that night if I got into Paris. She wouldn't stamp my passport. She held the stamp up in the air but didn't use it. After some thinking, she asked me if I had a return flight ticket. I had, but then my monkey mind started worrying. So I was nervous and couldn't focus. What felt like a long minute later, I opened my phone and clicked on the ticket available in my mail. It was not offline. Thanks to international roaming, I could download and show it to the officer. I felt like the officer stamped my passport with a heavy heart. I didn't mind, though. I was good to go.
My queue friend was waiting for me, and he changed his SIM card to use the local network and called the cab. As we were walking toward the baggage carousel, I saw a restroom.
Visiting Restroom
In Europe, you don't find a free restroom. Using a restroom costs 50 cents to 2 euros. I am okay with it, but they expect cash/coins, which I didn't have ( I had 100 euro notes). So, I told my friend to wait for another minute. I went in and came back only to see him missing. Maybe his cab had arrived, or he was standing somewhere I couldn't find. It doesn't matter because I'm alone again. There was a massive crowd near the baggage carousel. After jumping around suitcases on the floor, I grabbed mine. I wanted to hurry and reach my hostel. I was hungry but also wanted to calm down. So, before heading out, I sat in a nearby chair. I think I sat for at least 15 minutes. I looked at children playing with trolleys and people rushing in and out, and finally, I visualised something good waiting for me outside. I think my monkey mind slept after this visualisation. I stood up, opened Google Maps and searched for The People -  Paris Nation hostel.
Reaching the hostel
Instructions on Google Maps were simple. I'll have to walk for a kilometre within the airport, reach the Airport metro station and catch a metro to the city.
The below image is the Google Maps view.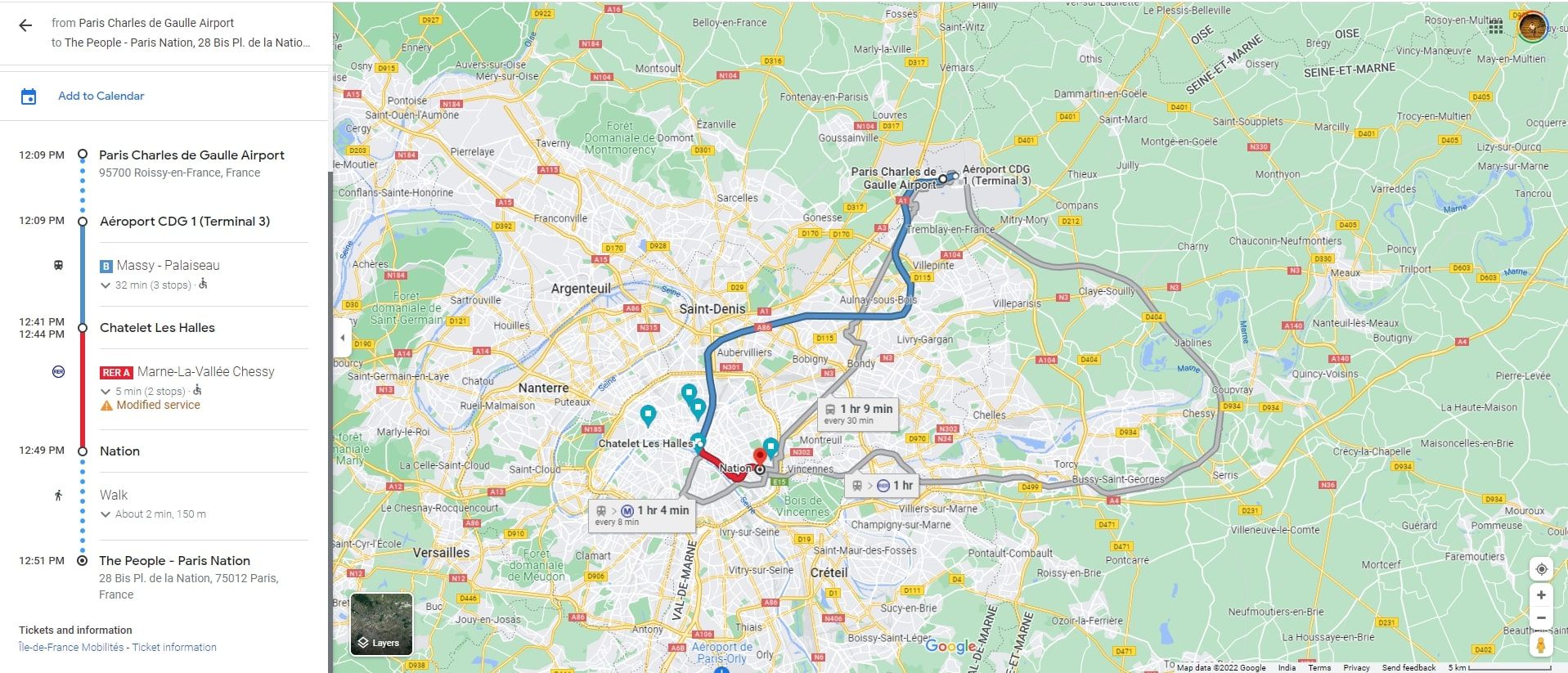 While collecting luggage, I was in an enclosed chamber where natural light wasn't available. I came out of the luggage area and saw a glimpse of Paris for the first time through the transparent glass. It was bright, like an afternoon in Bangalore. But my watch read it was around 9 pm. That's weird, I thought. I thought that maybe my band hadn't synced with my phone yet. I checked my phone, and my phone read the same. I remember enabling sync with the network clock on my phone. My first thought was that this sync wasn't working. I need to fix it.
I reached the airport metro station and was shocked to notice the crowd. It resembled an Indian market. It felt intimidating initially, but then I was concerned about my valuables. After zipping my pockets with all my valuables, I went out to get a ticket from the automatic ticket dispenser. I didn't understand much, even though the terminal was in English. There were various ticket types, and I was unsure which one to purchase. I tried asking for help, but no one knew English. Suddenly, I had a brilliant idea. I'll watch all the terminals for the people who use English as their language and ask them for help.
It worked! A person who looked like a cosmopolitan fashion model helped me to purchase a ticket and guided me to the train.
I had to get down near Châtelet, a metro station, and catch another metro to reach Nation.
As the journey to Châtelet was 30 mins, I posted the photo of my landing in Paris on Instagram. Within a few minutes, I got many replies suggesting that I be cautious as Paris is known to be notorious to travellers. These suggestions made my dance monkey wake up. I securely kept my phone, passport and purse inside my jacket pockets and felt calm. The idea was simple: I could reach India safely even if I lost others. After a few minutes, I got down in Châtelet, pushing the people in the metro and struggling to pull my trolley bag. The train was very crowded. At one point, I thought I'd lose my trolley bag in the crowd and only get down from the metro with my laptop bag. Thankfully, that didn't happen.
Once I got down near Châtelet, I was confused about the metro I should take to reach The Nation metro station. Châtelet is a big metro train station, after all. I asked people, got help, boarded the metro, and came to The Nation.
In the Nation metro, I faced the biggest challenge, carrying my trolley bag without an escalator or a lift. It was an underground metro station. So, I had to drag my trolley bag along the stairs for two floors.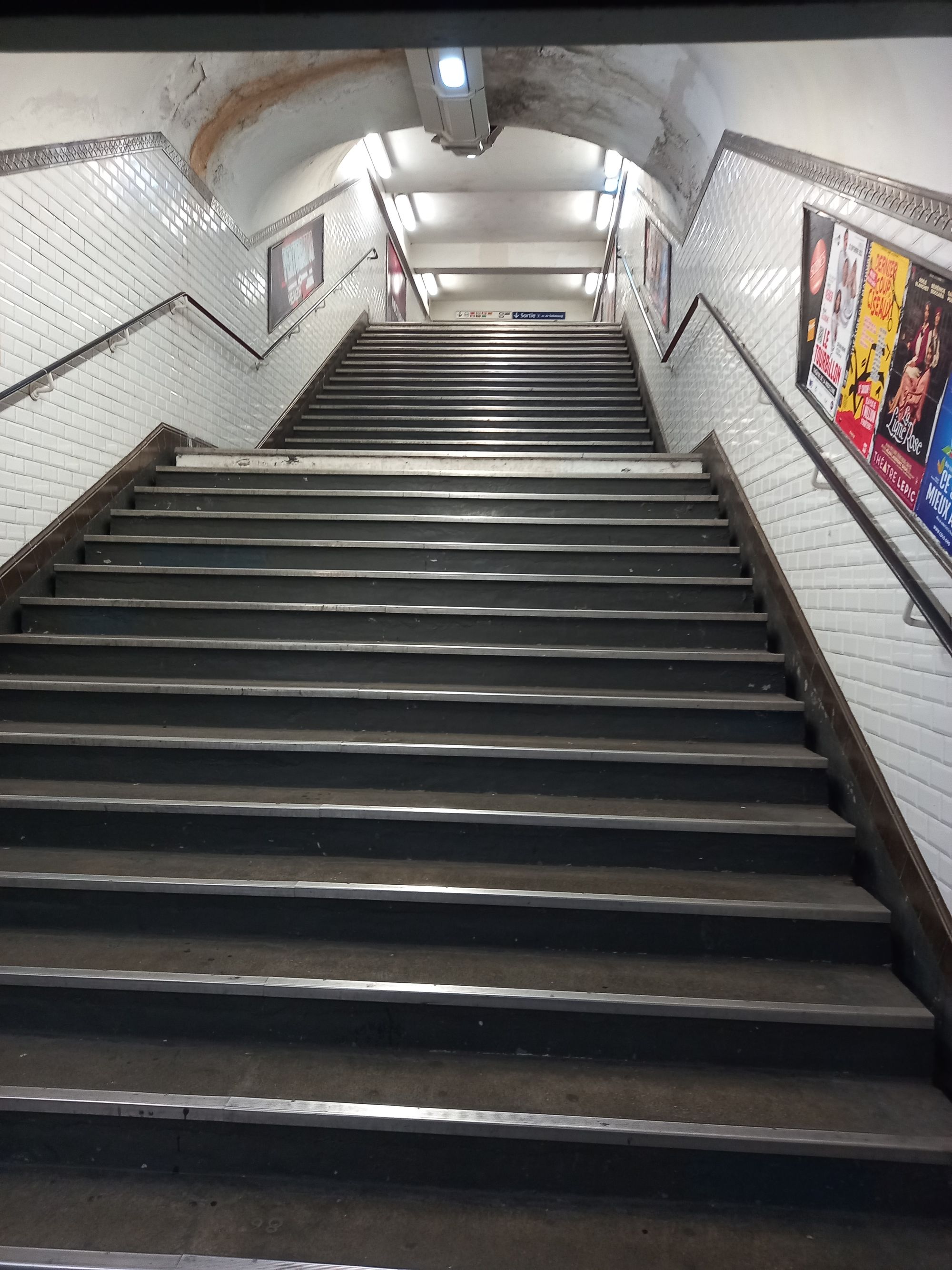 I was exhausted by the time I reached the road. But I felt like I had achieved something remarkable. Not because of carrying the luggage, no, but because it was officially the first step on the roads of Paris.
The Nation is a beautiful neighbourhood, and I instantly liked the place. It was sunset time, and my watch read around 10 pm, and I recalled that my watch was not in sync with time zone differences and ignored the timing.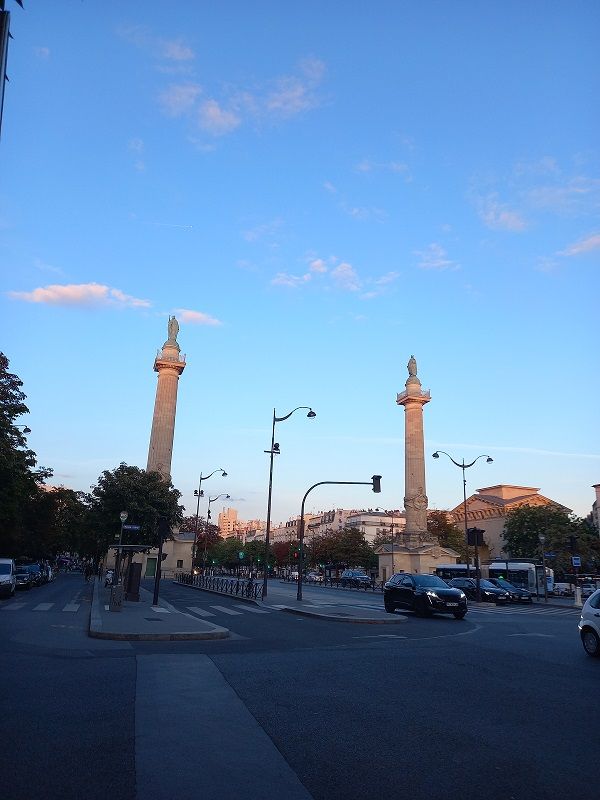 Inside Hostel
Pulling the trolley along the zebra crossing, I entered the hostel. The receptionist greeted me with a warm welcome and asked for my passport for verification. After that, he told me he was planning a trip to India, and I felt cheerful about that idea and encouraged him to do so. I got my key card for room number 4 and bed number A. I took a four bedded mixed sharing hostel room, and only four of us had access to open the room.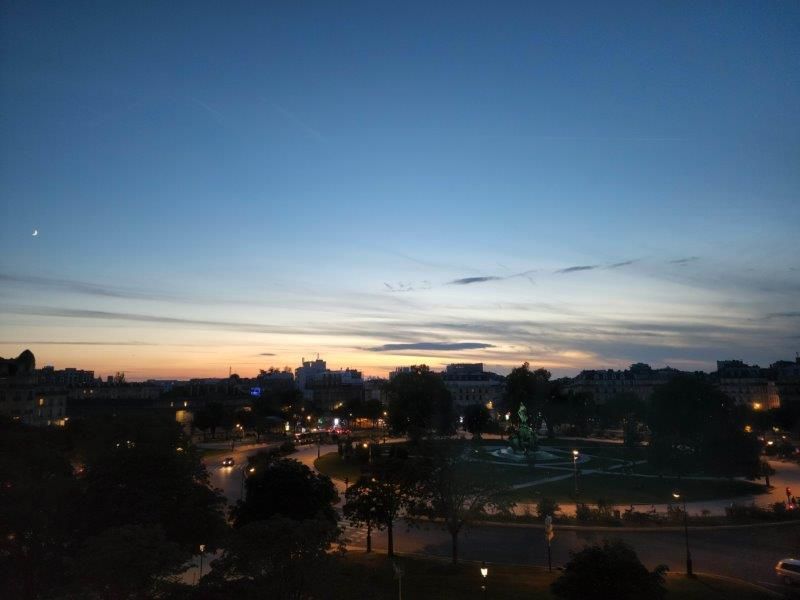 I entered the room, but it was dark. The room has 2x2 bunker beds with curtains for each bed. All the curtains were open and empty except for one. All I could see was the rounded hat near the pillow. It was as if the round cap was covering a woman's head. So, I thought someone was in bed and silently unloaded my luggage. I locked my laptop bag in a locker and went out for dinner.
How can it be 11 pm already?
As I was heading outside for dinner, I noticed that night had fallen. Near the reception, the clock read 11 pm, and my watch read the same. But only a few minutes ago, there was a sunset. How can it be 11 pm already? That's when I realised that few countries would have long days. I planned my entire trip without considering the long days. Now, I will have to change my plan.
While my mind was going through all this drama of changing the plan, my stomach reminded me to get food quickly. Since it was already late, my brain also started to focus. If it gets late, I might end up not eating anything (obviously, that was not the truth, I could get some food, it is Paris).
Feeling bizarre while having my first meal in Paris
As I turned around the corner, There was Burger King (BK) and local restaurants. I wanted to try the local restaurants but didn't have so much patience to look up which food to eat. I went to BK many times in India, so I went in.
They had computer kiosks for placing orders. But it was not beginner-friendly, so I spied on other terminals and finally placed an order, with little help from local people.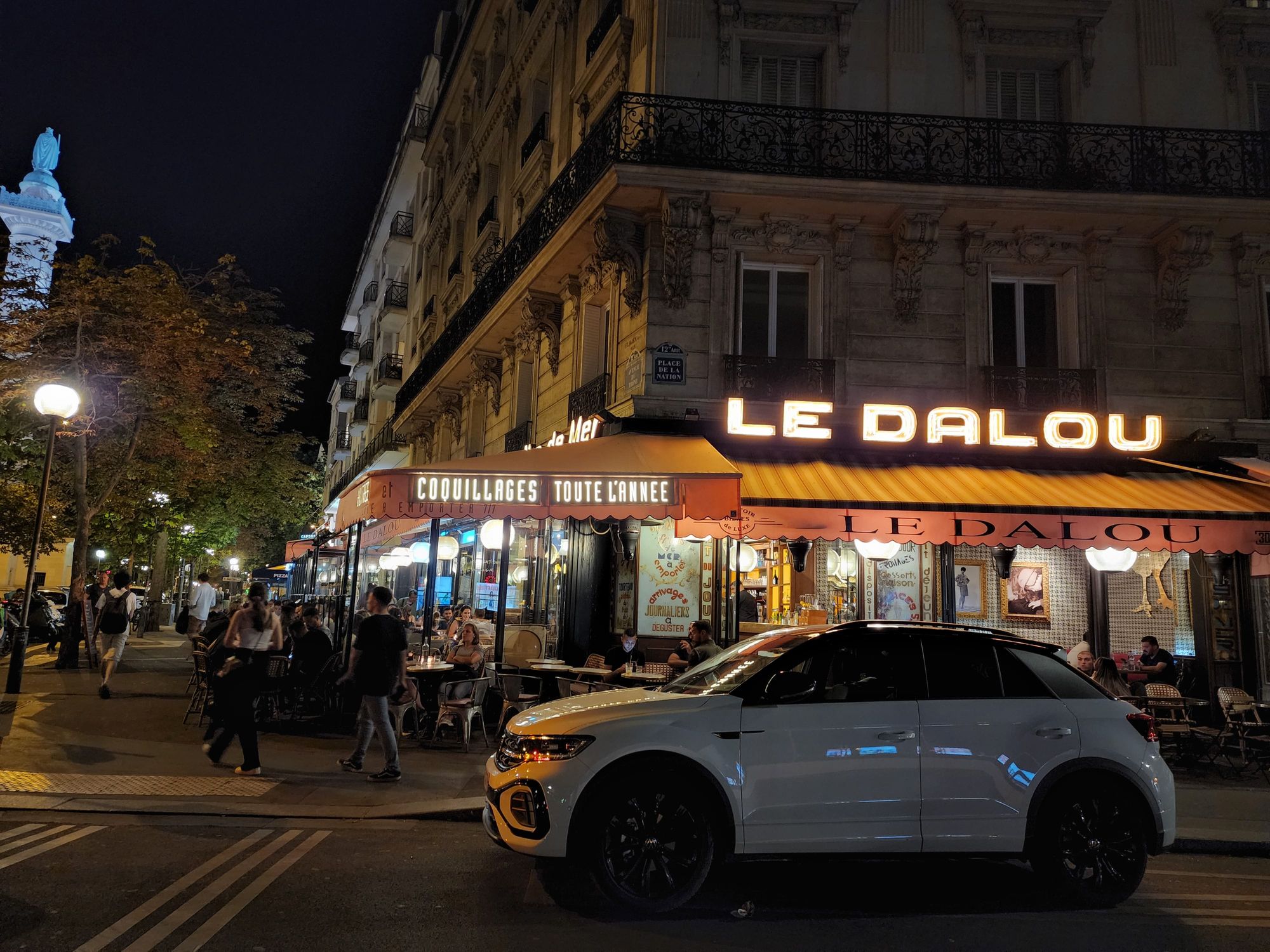 My forex card with Euro currency didn't work since I didn't enable international payments on the card. Allowing for international payments was a separate step. So I used my credit card as a mode of payment. If the payment value is small, there is no need to enter a pin. Though it was less secure, it was very convenient. I tapped and paid.
After grabbing my burger, I sat at a small table in the restaurant. Families, couples and groups were having dinner, and I was the only person sitting all alone in the restaurant, and I felt bizarre. I felt that everyone was looking at me and laughing that I was alone (though that was not the case). Because of this reason, I completed my dinner and left the restaurant quickly. After my dinner, I walked within a 100-meter radius and took photographs of this beautiful street.
Drinking Water
Later, I went back to my room only to realise that there was no drinking water in the room. I came down (rooms on the second or third floor) to the reception to inquire about free drinking water,  but the receptionist suggested I buy it from the supermarket next door. (Later on, I learned I could fill the tap water from the sink,  the same sink I used to wash my face and hands. Most of the tap water is safe to drink in Paris.)
The water bottle in this supermarket was the cheapest product I purchased during my whole Eurotrip, and it was 0.66 cents for a 1.5 L bottle. To give a comparison, a 500 ml water bottle at Arc De Triomphe is 3 euros. I bought two water bottles and got my forex card activated using WiFi in the hostel. In all the supermarkets I've visited, billing is self-service. The customer scans and pays at the payment terminals. I also did that here, and I went back to my room.
Meeting a future Software Engineer from London
When I opened the door of my room, I saw a stranger adjusting his luggage. He could speak English fluently, and we talked about where we were from and what we did. I learnt he was from London, but his family's roots were in Pakistan. We talked a lot in Hindi, and it felt so good to speak in Hindi, in a foreign language country, like Paris.
While talking, we were also concerned that we would wake the person with the rounded hat. So, we spoke to each other in whispers and learnt that he had just completed his exchange year at a University in Switzerland and was travelling around Europe before he joined the corporate. Interestingly, he's also a Software Engineer. So, we discussed common interests like the IT industry, CS education and other computer stuff.
Finally, our conversation was interrupted when he realised that he hadn't had dinner yet. So, he went out for dinner. Meanwhile, I went to take a shower.
The showers were in the common area. So, it was nice because you didn't have to queue near them. After a relaxing hot water shower, I went to bed thinking about the guts I should have had to reach this place, all alone and anxiously thinking about what the next two weeks had in store for me. Along with these adventurous thoughts, I was also thinking about how I should be drying my wet clothes.
I don't remember anything else. I was asleep.
What is it that you want to know about my solo Europe trip? Let me know in the comments, or drop me an email.
---
Recommendations
If you liked this article, you might also like reading the following.
---
❤️ Enjoyed this article?
Forward to a friend and let them know where they can subscribe (hint: it's here).
Anything else? Comment below to say hello!