🤩 What's it like to read a Manga Book
In this article, I talk about my experience of reading Manga in the form of a Physical book.
Hi! My name is Narendra Vardi, and I write about my learnings, observations and trends in the Software world. Besides software, I also talk about photography, travel stories, books and movies. If that's something that interests you, consider subscribing.
---
If you read my about me section, you would know that I like reading graphic novels . Besides graphic novels, you will also know that I follow One Piece Manga. I have been following it for more than a decade now. Initially I started with watching animated version of it called Anime and now I read their manga. The switch to reading manga helped me to save a lot of time for my work and it also helped me stay up to date with the story (Though I haven't read the manga in the last few years).
Recently I came across a bookstore which was selling unique books. From my various visits to different bookstores in Bangalore, I can say confidently that majority of the books that catch your eyes in the normal b​ookstores are either paid by publishers to be kept visible or the bookstore has a great margin that they chose to keep it clearly visible. One of the common feature of these visible books is that they will be in the Amazon's most selling booklist. Being a Kindle user myself, I get bombarded by Amazon with this same list. So, when I visit a bookstore I just find myself seeing the nearly same books and think, "These must be some exceptional books but I have seen these books' covers so many times and it's mostly cheaper on Kindle or Audible, so I will skip purchasing now". At the end, I move on without purchasing these visible books.
Now when I say unique books, I mean the books that are not in this visible book list. It was a lot of fun to see so many unique books around. As I was looking around, I saw a collection of One Piece Volumes (Books) and I bought the first volume immediately.
If you read manga, you would know that we read manga comics from right to left. But American comics are different, you read them from left to right. So, having a book helped me to understand how people actually read manga offline.
Here's a video of how the book looks like: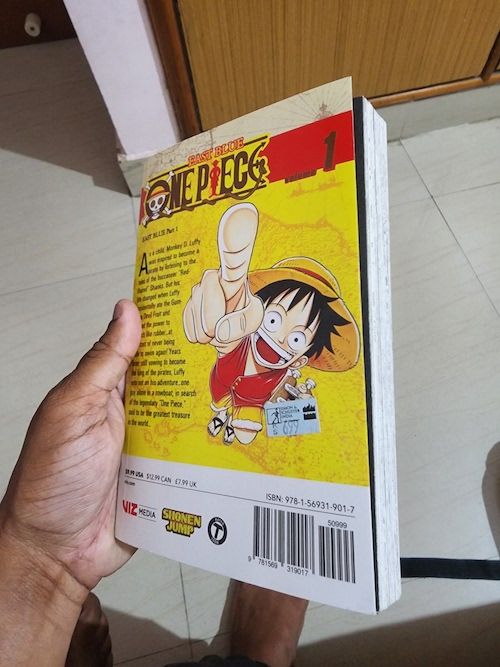 Notice that the bar code is at the front side cover of the book and the title of the book is at the back side cover of the book.
The manga books are read from the back.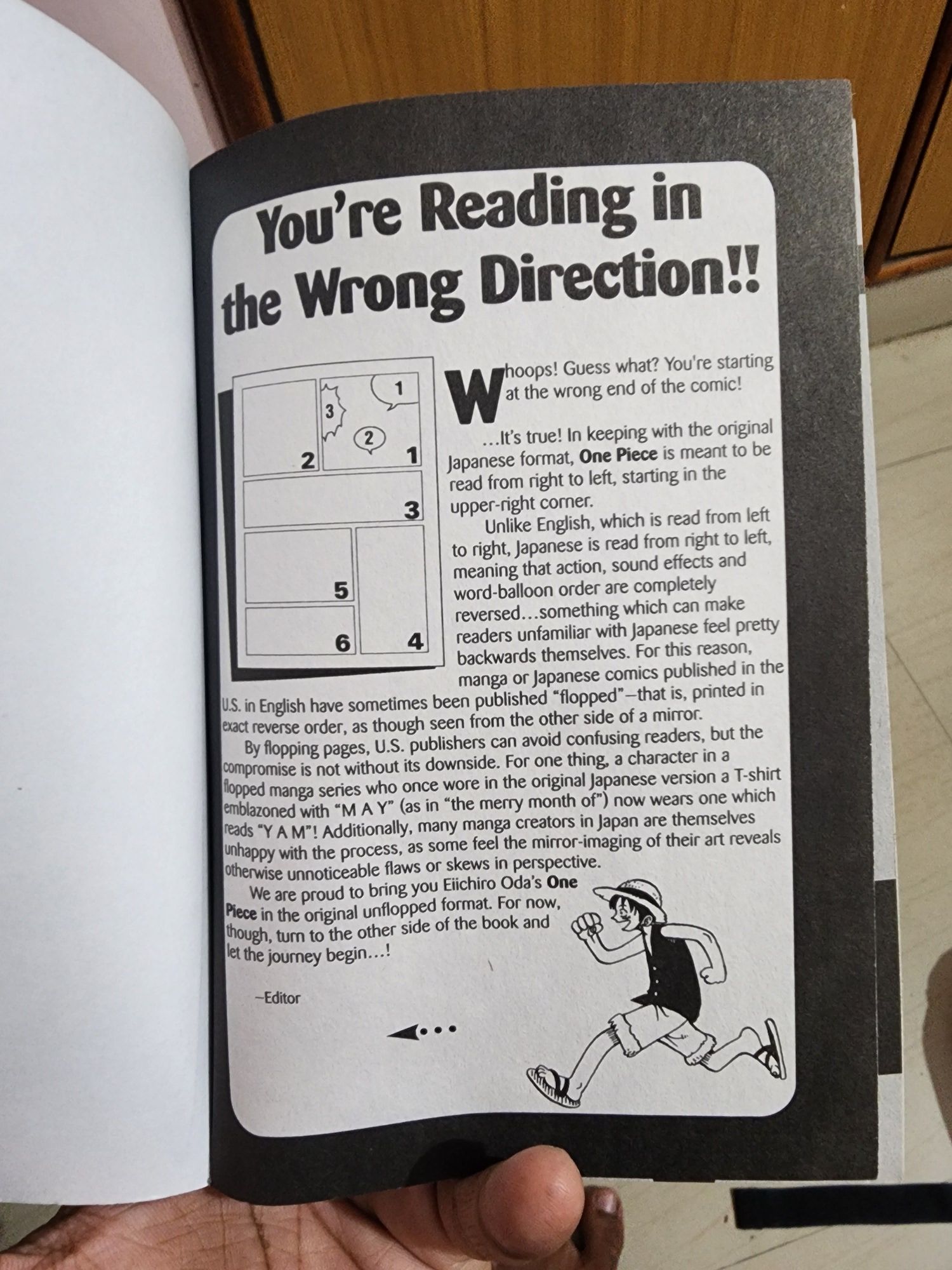 The first page from the front cover page gives a clear idea on how to read manga and the initial failures of using mirror image technique in the US.
Coming to my experience of reading this volume, I completed this book in two sittings. 80% of it in the first sitting and the remaining in the second sitting. I loved reading a book over manga online. I think these are few reasons which I felt might lead to this wonderful experience.
Manga is partitioned into chapter (1 chapter ~ 20 pages). What this means is that if you want to revisit something from few chapters back, you need to load all the chapters and then figure out it yourself.
There will be way too many ads while reading online.
Reading manga on mobile is uncomfortable and reading on laptop is distracting (I tend to check for mails or other updates).
Finally and most importantly, I feel guilty reading manga online because of the strain reading via device has on my eyes.
Though physical book elevates the experience of reading manga, I would still continue to read it online for a decade or so due to their less availability and high cost. I paid 800 INR for nearly 10 manga online episodes. There are 1000+ episodes, which means I might end up paying 80k 🥲 If more and more people start reading, the availability also increases and cost incurred on transport get less. Hoping for a cost-effective volumes (for an Indian) in future.
That's it from my side. Which Anime/Manga are you following now? What's your favourite so far, let me know in the comments below or feel free to shoot an email.
---
Share this article
Copy and share this article: narendravardi.com/manga-book
---
Recommendations
If you liked this article, you might also enjoy reading the following.
---
❤️ Enjoyed this article?
Forward to a friend and tell them where they can subscribe (hint: it's here).

Anything else? Comment below to say hello, or drop an email!