How to apply for Schengen Visa to France as an Indian
I have received Schengen Visa from France twice, the first time in 2018 and the second time in 2022. In this article, I discuss the ways to reduce uncertainty while applying for a France Visa and hope to ease the process of getting the visa approval without using any backdoor.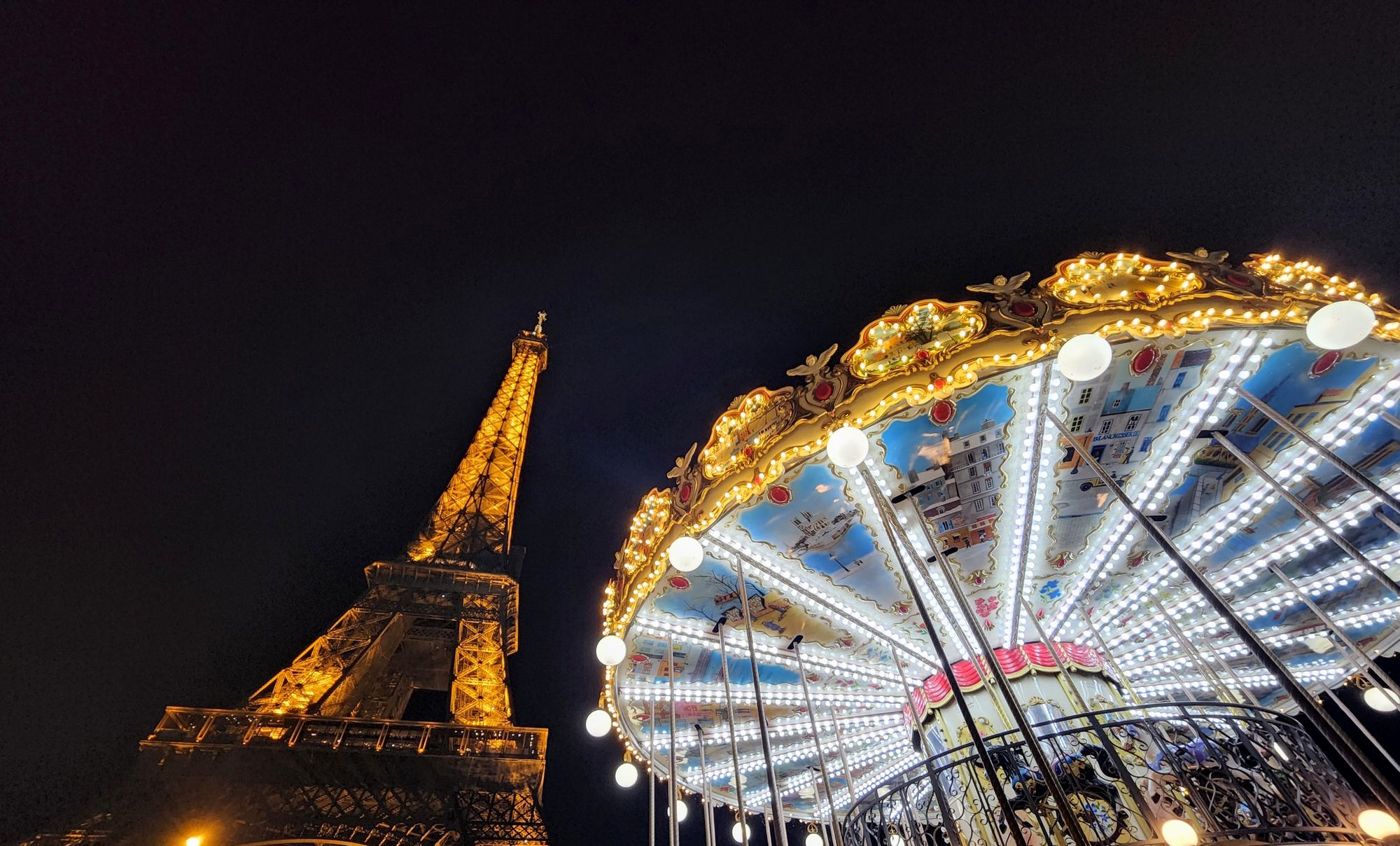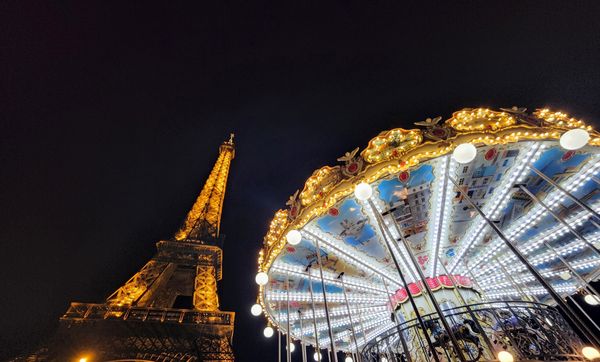 First of all, let's learn about the Schengen visa.
What is a Schengen Visa?
From the Schengen Visa information website,
A Schengen visa is a short-stay visa that allows a person to travel to any members of the Schengen Area, per stays up to 90 days for tourism or business purposes.
Now I will have to discuss what's Schengen Area, right? Here's the info about it from the Schengen Visa information website.
Schengen Area signifies a zone where 26 European countries, abolished their internal borders, for the free and unrestricted movement of people, in harmony with common rules for controlling external borders and fighting criminality by strengthening the common judicial system and police cooperation.
In layman's terms, the Schengen area consists of 26 European countries you can visit if you have a Schengen Visa. If you received a Schengen Visa permit from one country, you could visit all 26 countries without requesting another visa. This type of visa is not common in most other parts of the world, which is also one reason why Europe is one of the best destinations to travel to.
When should you apply for a Schengen visa from France
This is detailed more on the schengenvisainfo website. For the lazy ones, here's the gist:
Visiting France only?
In this case, you must request a Schengen visa from France.
Visiting more than one country (may or may not include France)?
If you are planning to visit more than one country – then from which country you need to request a visa depends on the number of days you will be spending in each country.
When spending an equal number of days in each, you must request a Schengen visa from the country where you will first arrive.
When spending unequal amounts of days in each, you must apply for the country where you will spend more time.
Hmm, is this article not helpful in applying to other Schengen Visa Countries?
It is also helpful even if you apply to other Schengen countries. The process is almost similar for all the Schengen countries, but I haven't requested from other countries, so my experience in this article is mainly from France's application process.
Process
The process involves four steps.
Fill out an online application form with The official visa website for France.
Book an appointment with the France VFS website. Before this step, we need to gather all the necessary documents, which I have listed in the checklist.
Submit the necessary documents.
Wait for the response.
Checklist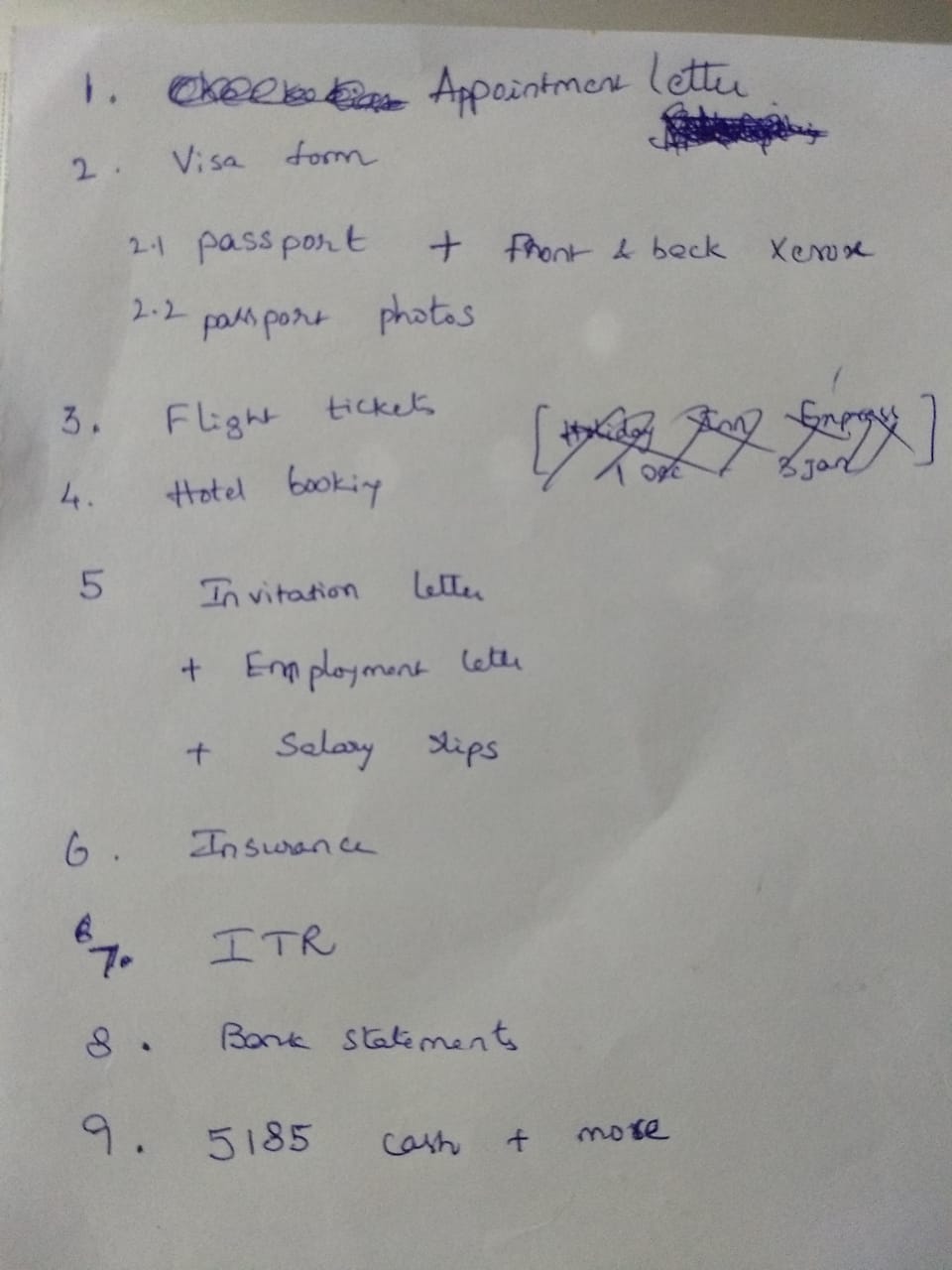 Itinerary
One of the essential steps not part of the process but crucial is to finalise the itinerary.
I cannot guide you on the countries you can visit as it's a personal choice. But I do have some pointers here.
Finalise places which you would like to visit.
Plan in such a way that you spend a minimum of 2 days in a smaller city/town and four days in a bigger city. It might feel a lot, but that creates a deeper connection with the place.
Do not get into the temptation of visiting all the countries.
Avoid retracing the path. If you want to visit Paris, Amsterdam and Barcelona, you might end up retracting if you reach Paris first, as Paris is between Amsterdam and Barcelona.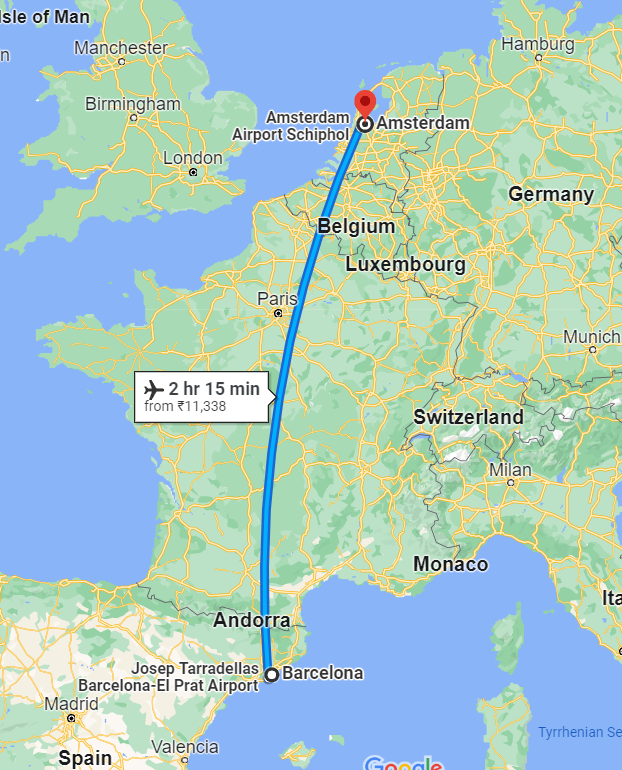 Visa
Various conditions must be satisfied to receive the Schengen visa from France. A couple of things which I wanted to list here are:
Apply to France if you are staying in France for a longer duration than any other country on your trip or
Apply to France if you enter the Schengen area via France and plan to stay for couple of days.
Hotel Bookings
You can use any online platform to book your hotels but make sure your booking doesn't have a cancellation fee.
I have booked either used Airbnb or Hostelsworld to book accommodation. You might also need the email id of the accommodation to be filled in the application form. Hence, book a booking which has an email id and phone number. If they are not available, do not worry. Book the accommodation and drop a message using the accommodation app.
Flight Bookings
Back in the pre-covid days, I purchased no cancellation fee flight tickets. But now, I couldn't find any zero cancellation fee flight tickets. So, I used the flight ticket reservation platform called schengenflightreservationvisa. This platform reserves a flight ticket in your name for two weeks, after which the reservation is expired. Hence, purchase the reservation a couple of days before your appointment.
💡
Many people think this reservation platform is shady and shouldn't be used. That's not true. It worked, and a few others recommended it to me. So, it works! :)
Visa Application Form
Create an account on The official visa website for France and finish the application form.
You will be able to download the pdf of the Visa Application form. Download it and note the Visa Application form ID.
VFS Appointment letter
💡
I wanted to mention the role of VFS here. VFS is an intermediary between us, the visa requester and the France Visa office. We will have to submit all the documents to VFS Global. VFS Global will send out the documents to France Visa Office.
After finishing the Visa Application form, log in to the France VFS website and book an appointment. You will be requested to enter Visa Application Form Id. You will be able to find it in the Visa Application form.
There are two different types of appointments.
Go for Premium if you are applying for the first time, as VFS staff guides you. Once you are experienced, you can book a Normal appointment.
💡
If you need guidance while applying for your Schengen Visa, you can
hire me
! :)
Financial Statements
Along with the visa application, you need to provide acceptable proof of funds that shows your financial ability to travel and bear expenditures during your stay in the Schengen area.
Here's what you would need to provide:
Personal bank statements for the last three months.
Salary slips for the last six months
ITR for the last two months
Travel and Health Insurance
French authorities mandated that travellers obtain travel insurance before their trip. This is to make it easier to access medical care as Europe healthcare can be very expensive for travellers from other countries.
I generally take insurance to cover +5 days before and +5 days after the trip.
Cover Letter
quoting from schengenvisainfo:
Explain clearly and truthfully in this letter why you wish to enter France, what you will be doing here during your permitted stay and other details regarding your trip.
You can also enclose a cover letter providing more details that might help you get visa approval. If your documents are all correct, this letter can just contain the itinerary. Refer to this article on schengenvisainfo for various ways to use a cover letter.
NOC from the employer
If you are an employee working in India, as per the rules and regulations, it is expected that you do not work in the Schengen area. Hence, you need to request NOC from the Employer. It is a letter which acts as an official leave of absence from work. The printout of this copy needs to be provided to the authorities.
Misc
As mentioned in the checklist image, you would also need the following
If you are on a gap year or break, you need to Prove Intent to Return Home country. Definitely talk about gap year in the cover letter and provide a valid explaination.
Submitting the documents
Once you have collected all the documents, take a printout and visit the VFS center during the scheduled appointment time and submit them.
VFS Staff will take your biometrics and passport.
You might receive the passport with Visa Sticker pasted in your passport page via courier. You can talk to VFS authorities to understand when it will be delivered.
Rejection Letter
If you are applying for the first time, there is higher chance of visa getting rejected compared to a person who already got visa. When the visa is rejected, you will be provided with a generic reason. Do some research around the reason and fix the issues. Most of the times rejection happens if your proofs are not trustworthy or there is some gap.
Giving a print out of hotel booking and cancelling that booking while visa in under process could surely lead to a rejection. So, once the documents are submitted, do not make any chances to your itinerary.
If you have any doubts, let me know in the comments below or drop an email.
---
Recommendations
If you liked this article, you might also like reading the following.
❤️ Enjoyed this article?
Forward to a friend and let them know where they can subscribe (hint: it's here).
Anything else? Comment below to say hello!
---